I've been asked what solar filter I would recommend for photographing the upcoming Total Solar Eclipse in Exmouth on the 20th April 2023. I thought, why not write a blog post for the benefit of everyone!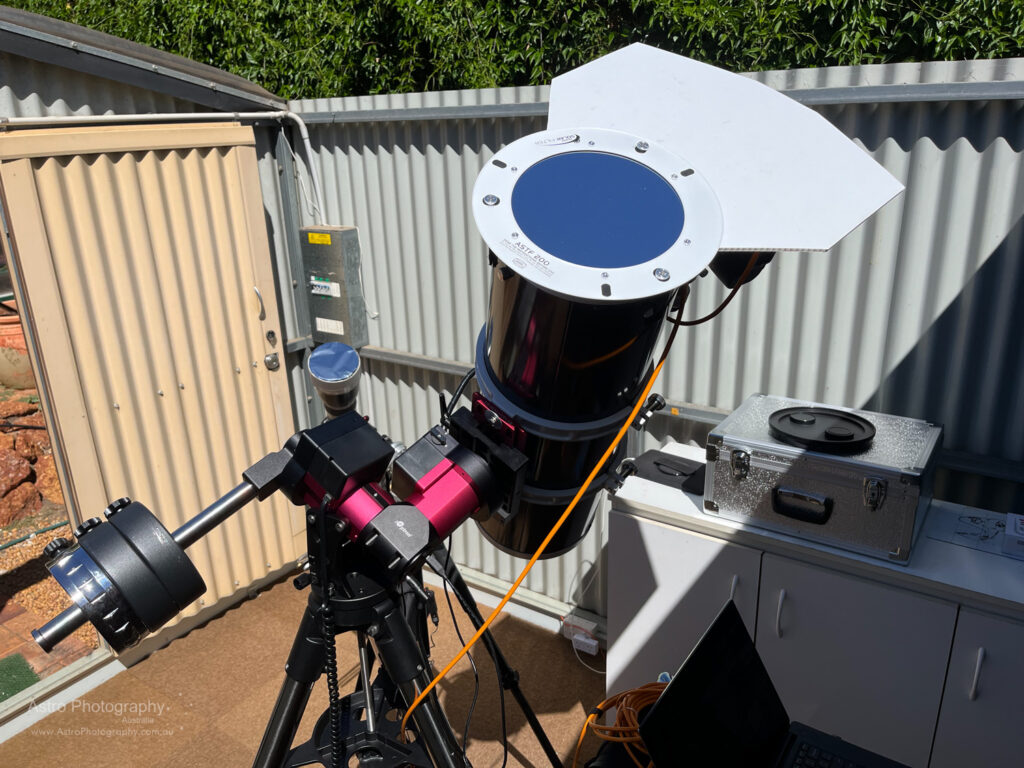 The need for a solar filter
The single most important consideration is that you purchase a certified solar filter and use that on your camera/telescope. An unfiltered telescope will likely cause permanent damage to person or equipment.
The only time you do not need a solar filter is during the totality phase of a total solar eclipse if you are directly in the line of totality. During that time you remove the solar filter and you need to be well organised and diligent to put the solar filter(s) back in place prior to totality ending.
What solar filters do I use?
I use all Baader Solar Film filters. Aside from some Hydrogen Alpha (Ha) filters and white light glass filters that I have borrowed extensively from the Astronomical Society of Western Australia in the past and used at the Perth Observatory in more recent times, I have always used the Baader Solar Film. I do not do enough solar photography to justify the purchase of a photographic Ha solar telescope or filter.
Why do I choose Baader Solar Film?
It gives me fantastic high resolution white-light images, full of solar surface detail.
I see more detail in my photographs than I see in some white-light glass filters, and conversely I do not see more detail in any glass white light filters than I see in my photographs (for the same given focal length/optical quality).
The Baader Solar Film is adaptable – I can cut it to size for the equipment I have
It lasts. I have not had any problems with degredeation, holes, cuts, or other deterioration.
It's affordable
it's light weight
How do I use the Baader Solar Film?
Rather than apply/stick/adhere the solar film directly on to my equipment I make holders/caps/sleeves which I make the Baader Solar Film a part of, and then I take those filters on/off as required.
Below are three of my filters. These are for (smallest to biggest) my:
Canon 70-200 F/4 lens, to fit over the lens shade.
William Optics Megrez 80 SD refractor, to fit over the permanently attached dew shield
William Optics Megrez 90 APO refractor, to fit over the permanently attached ew shield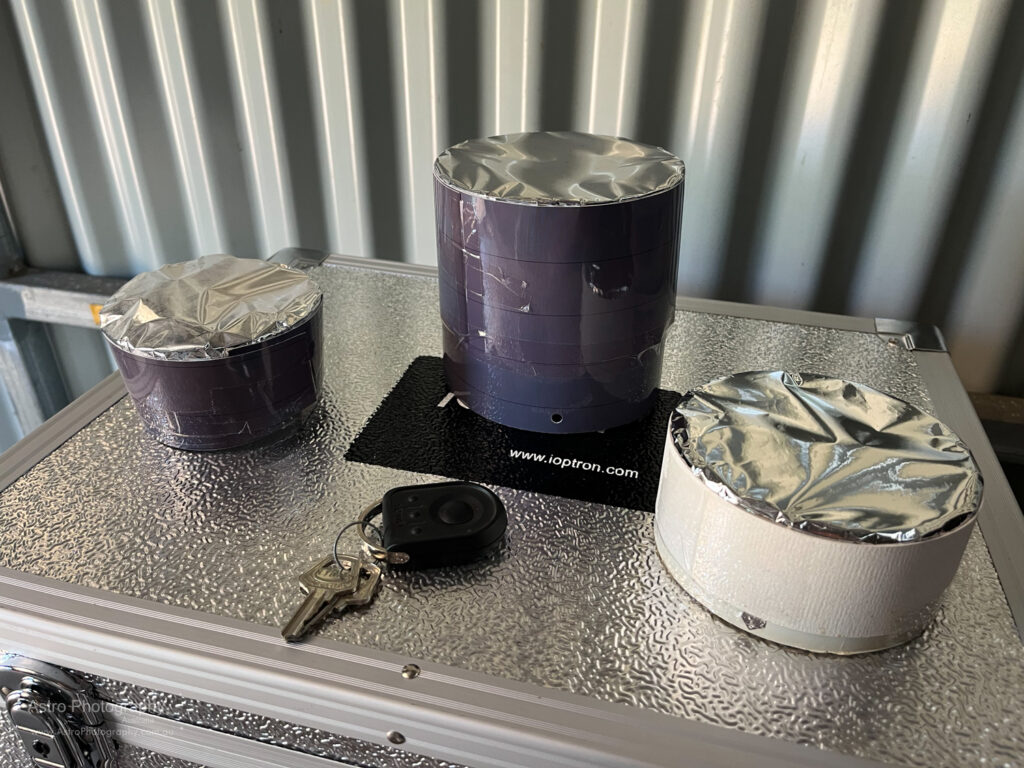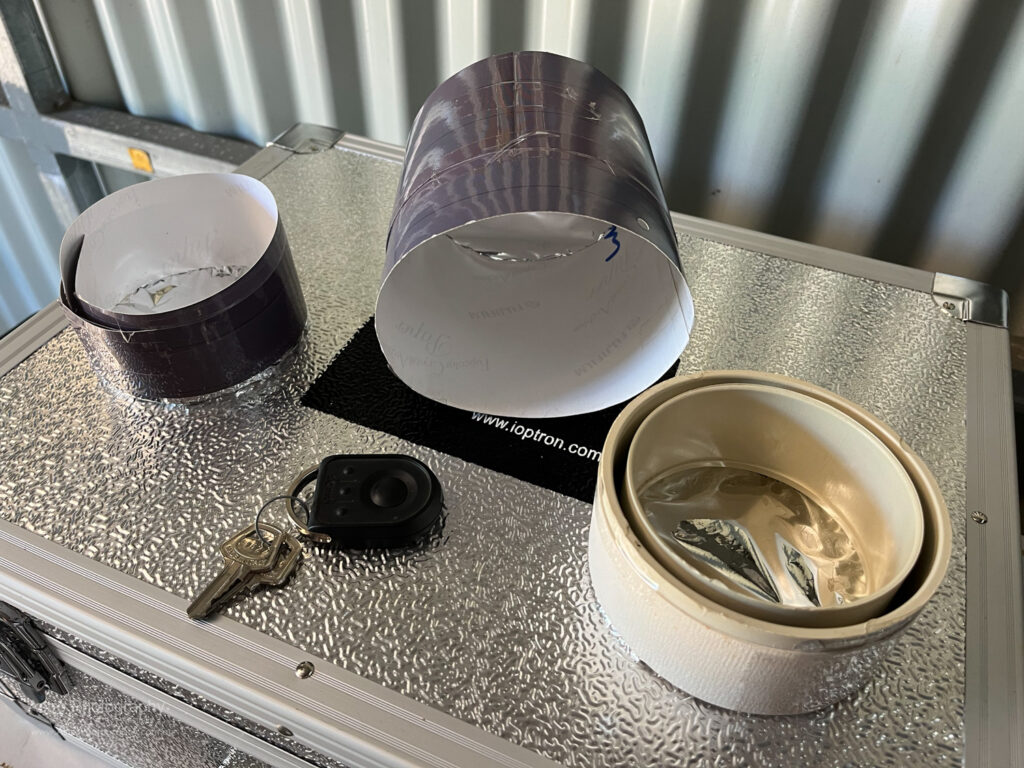 You can see in the above photographs I have a mixture of plastic coated paper and PVC pipe fitting used.
The plastic coated paper does not deteriorate with a little moisture, is rigid and a snug fit over the telescope/lens optical tube/shade.
The PVC approach I particularly like, because it is rigid and strong, and fits perfectly over the applicable Megrez 80 and also the lens shade of the Canon 70-200 if I don't have the other smaller filter.
Use self adhesive felt to make adjustments of your filter holder to be a snug fit on your telescope.
Use Velcro or tape to ensure your solar filter stays attached to your telescope in windy conditions.
Before use I always inspect the filters for damage. In particular, pin rick holes. Like I mentioned earlier I've never found any but it's worth checking.
When attaching the filters it's worth doing so gently and slowly. You can find that if you have a tight fit of your OTA there can be some air pressure as you push the filter on, and you don't want that to place undue stress on the solar filter, so just easy does it. Same for taking it off.
I also have a Baader solar filter which was purchased as a pre-made unit, for my 8″ SkyWatcher Quattro telescope. This one has worked out particularly well. It grips well, has Velcro strips to double make sure it stays on, and it's a nice rigid yet adaptable construction. It is shown below.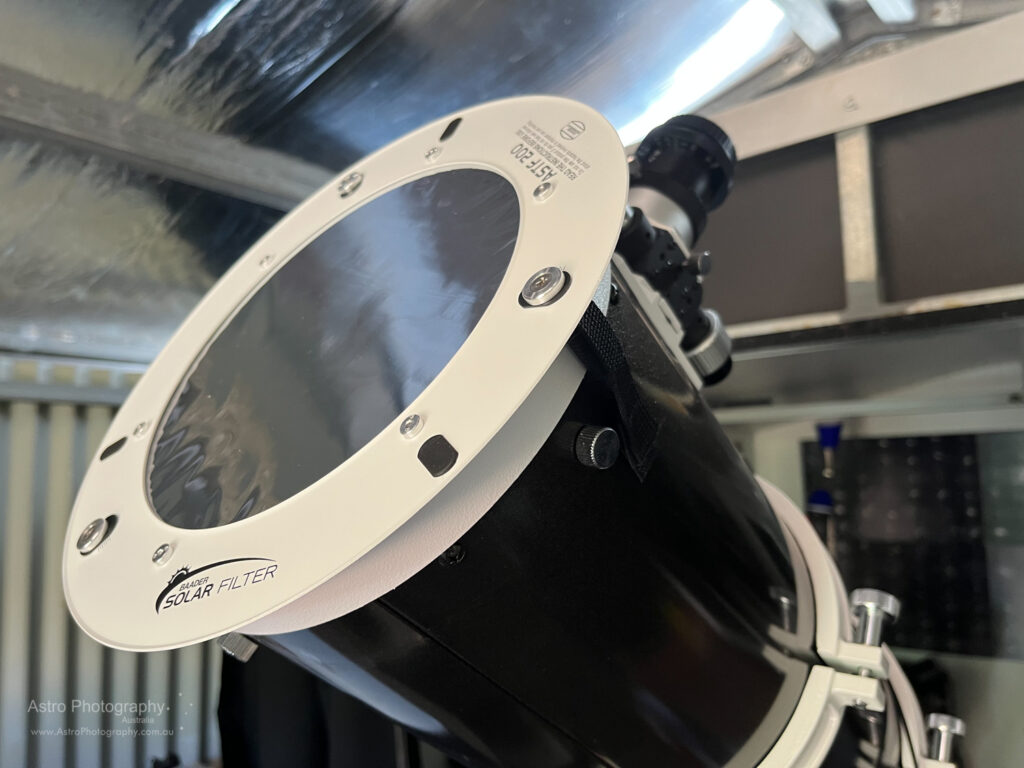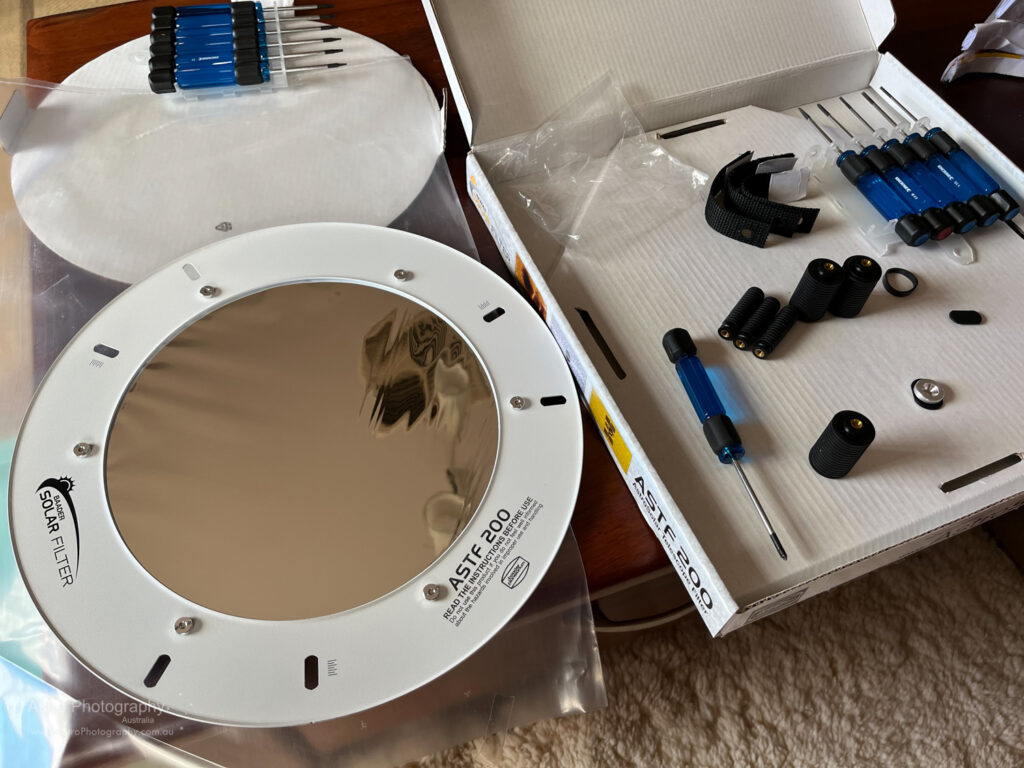 Storage of Solar Filters
One of the reasons I have had such success with my filters and they have lasted so long, is that I store them well and treat them with care.
Each filter is kept in it's own Tupperware/Decor plastic container which fits snugly but not too tight, in a way that the solar film is protected by the hard surface of the container but at the same time does not touch any surface. Almost any container will do, but you need to make sure you store your filter in a way it will not get damaged.
Where to buy solar filters for solar photography?
Buy Baader Solar Film and other solar filters from a reputable telescope/astronomy store. Some of these in Australia which I would recommend include:
Happy solar photography-ing!